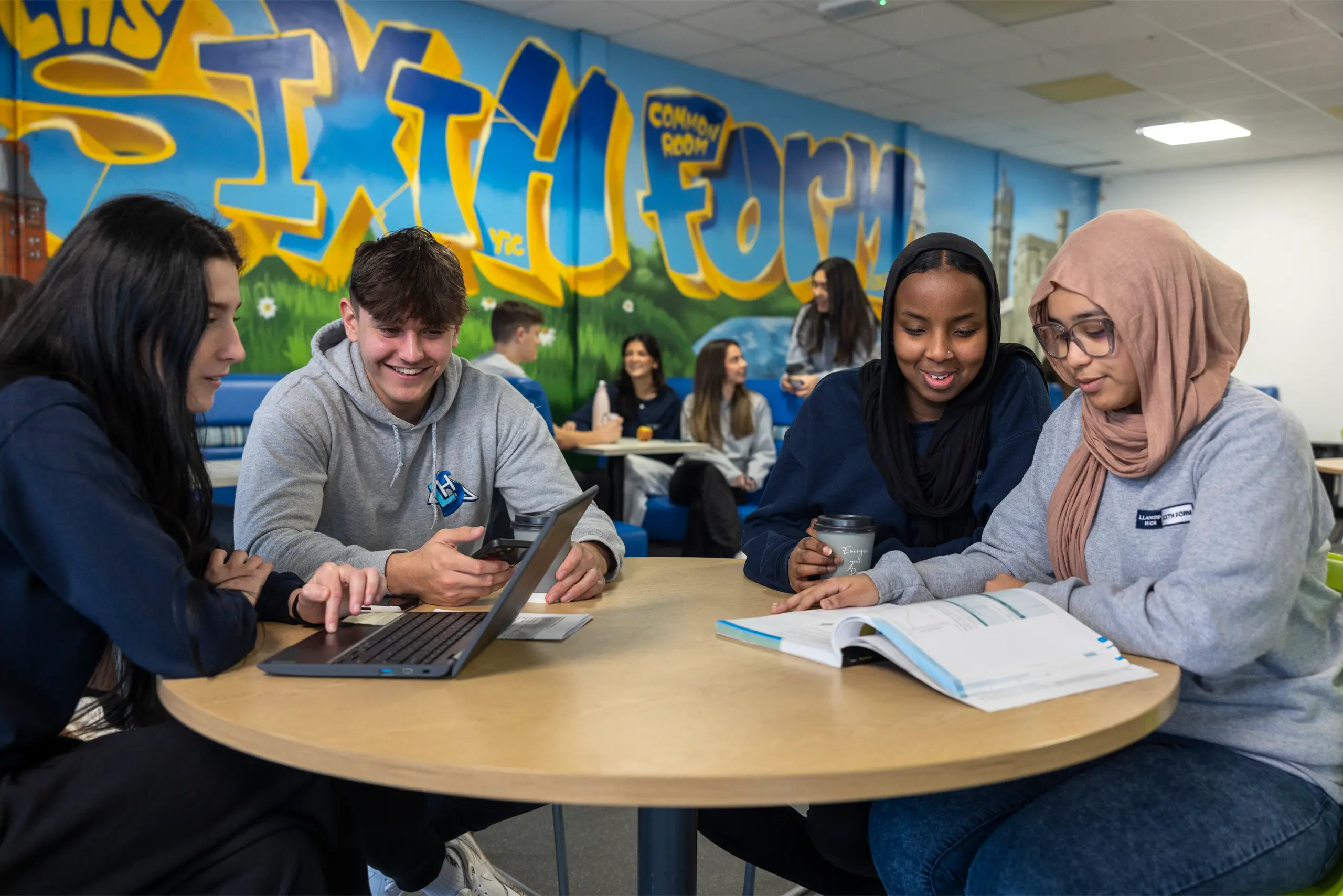 Welcome to LHS Sixth Form
We are delighted to introduce you to The Sixth Form at Llanishen High School – a vibrant and successful learning environment with around 250 students. Our Sixth Form provision is unique and our students enjoy excellent teaching across a broad curriculum of 30 subject areas. Every year, exam results achieved by our students are outstanding. This provision is firmly rooted in a very inclusive and diverse school community that offers support and opportunity that cannot be found elsewhere.
Outstanding academic achievement is supported by our commitment to student wellbeing. Every student in Sixth Form has a specialist Sixth Form tutor and access to a wide range of pastoral and support services. We also proactively prepare our students for the journey towards independent learning, actively developing the skills of self-organisation, study and motivation.
Aspects of our Sixth Form experience and provision that we are most proud of include:
Smaller group sizes – on average 10–15 per class – that allow for more individual and personalised teaching and support
Aspirational target setting and close tracking of progress against targets
Regular parental involvement in progress and early intervention if we have concerns of any description, and vice-versa
A stepping stone into a more independent style of study whilst being a member of supportive tutor group, accessing all wellbeing services in school
All students have a dedicated and specialist Sixth Form tutor for Year 12 and 13 and support for the Advanced Welsh Baccalaureate Skills Challenge Certificate
The opportunity to play a role as a senior member of our whole school community in a wide range of leadership roles that develop wider skills and experiences and provide a unique edge to UCAS and onward applications
Access to a dedicated pathway to challenge and support more able and talented students
Specific support for UCAS applications and specific support for those aspiring to Oxford, Cambridge, Russell Group and Sutton Trust Universities
Support and guidance on apprenticeship schemes / alternative post-18 opportunities
Opportunities for team sports and wellbeing activities as a year group (Wellbeing Wednesday afternoons)
A wide range of extra-curricular opportunities including the Duke of Edinburgh award through to local and foreign travel opportunities
The opportunity to be part of a very inclusive Sixth Form that sets the standard for the younger year groups coming through the school
Life, opportunities, and facilities at LHS Sixth Form
Students study and socialise in the dynamic, yet relaxed atmosphere of the Sixth Form Centre. This is the hub of the Sixth Form community, where students can relax in the common room and carry out independent study in their Private Study Area. Students also have access to computer facilities solely for their use. Every student in LHS Sixth Form is provided with a Chrome Book for the duration of their studies.
Our aim is to prepare our students for university life and beyond by helping them to achieve excellent outcomes, develop an intellectual appetite and become well rounded individuals.
Along with gaining qualifications, Sixth Form also provides you with many opportunities to develop your talents and personality through a wide range of extra-curricular activities. Our Sixth Formers have always made a notable contribution to the artistic, cultural and sporting life of the school as well as participating in a variety of activities that help them develop qualities of leadership in which they assume greater responsibility and contribute wholly to the day-to-day life of school. Thriving numbers take part in the Duke of Edinburgh silver and gold awards.
Frequently Asked Questions
Sixth Form Student Leadership Team