17 November 2023
Dear Parents, Guardians and Students/Annwyl Rhieni, Gwarchodwyr a Myfyrwyr
In the week that featured Storm Debi, let us bring you a round up of news and stories.
A treat for our Year 13 Chemists…
On Monday 6th November, Mr Jayne took our Year 13 Chemistry students for a real treat, restarting their half term with a day out hosted by Swansea University Chemistry faculty. The students had the opportunity to work alongside first year chemistry undergraduates as they completed three of the specified practical experiments from the A level course. The multi step procedures involved the students making a solid organic product in the morning and then analysing the purity with melting point apparatus.
They then had performed a set of organic chemical tests before lunch on campus. After lunch, a quick liquid synthesis using reflux equipment and a distillation of the liquid organic product was carried out. A special mention must go to Dan Favager who managed to produce such pure crystals in the morning and then the most liquid organic product that the demonstrator he was working with had seen.
Here they are in action…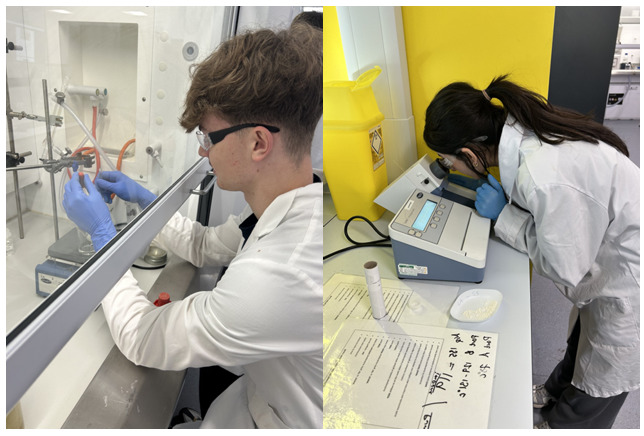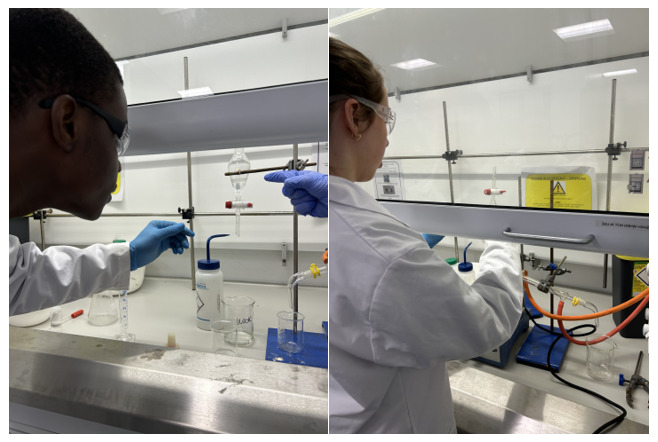 ---
In remembrance
We would also like to thank Ruben Kelman (Year 11 and member of the Welsh Youth Parliament). On Sunday, Ruben laid a wreath of poppies on behalf of the young people of north Cardiff in remembrance of all those who laid down their lives for their country, and those who continue to do so today.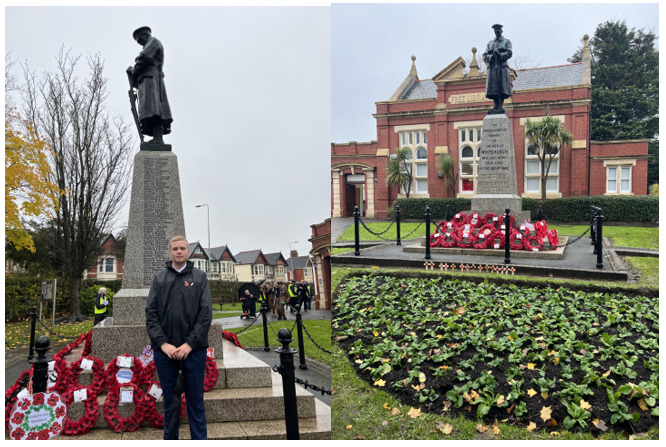 ---
Mr Owens well kept secret…..!!
On Thursday 9th November, we were delighted to have a visit from professional footballers at Cardiff City FC – Mahlon Romeo, Alex Runarsson and former pupil Cole Fleming . We were very grateful that they took time out of their busy schedules to visit our students for a very special assembly. Players spoke about their backgrounds, experiences and pathways into the professional game. All players addressed our core values at LHS and discussed how each one of these were instrumental to the successful careers that they have had. The students were very excited and had the opportunity to ask the players questions of their choice. Mr Owen was very impressed with the maturity of students together with the variety of questions they had for each of the players.
I have to commend Mr Owen for managing to keep this a secret, and therefore a surprise for his year group. He was possibly more excited than anyone else!
A great buzz and some key messages about the success that is born of hard work and dedication.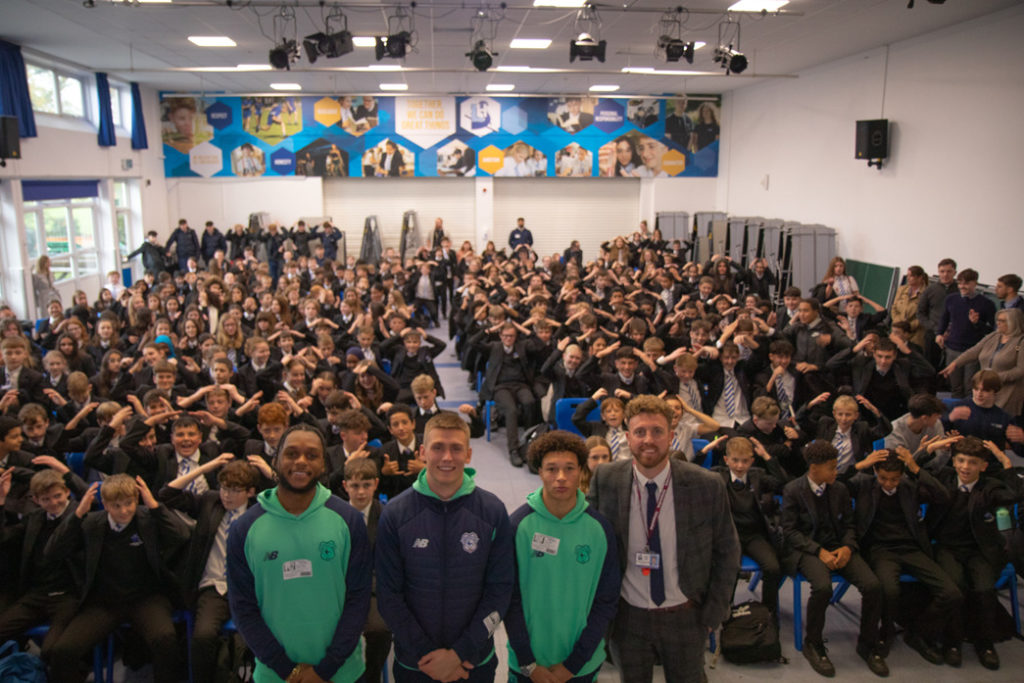 ---
Pets as therapy
What better to sooth us after the dizzy excitement of Cardiff City players in our school than these gorgeous dogs. Just before half-term, we were very privileged to partner up with Guide Dogs for the Blind. We are very grateful to the dogs and their owners for coming in to spend a day in our Wellbeing Centre. Students (and staff) visited throughout the day and were instantly calmed as they sat and spent time with the dogs and their owners.
We are grateful to the owners for sharing their stories and talking to the children about the ways in which the guide dogs have changed their lives, giving them independence and companionship. Many of the students told me how much it made them appreciate having their sight.
The dogs were also living their best lives as you can see, including Jason Dogovan!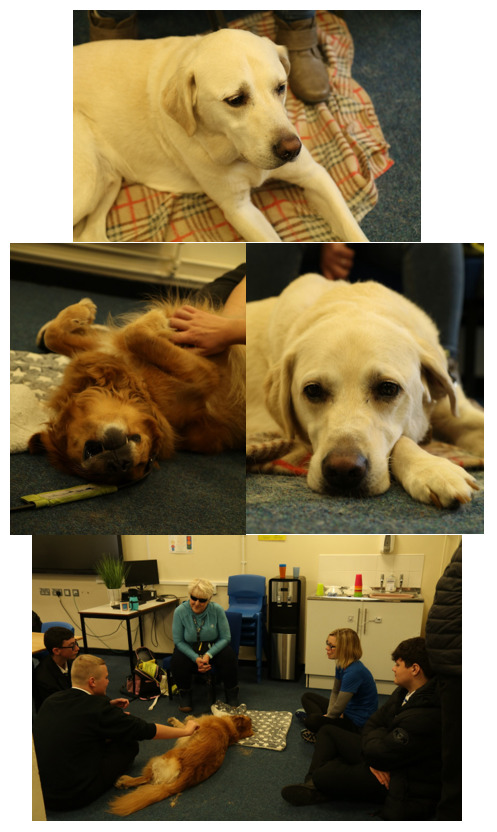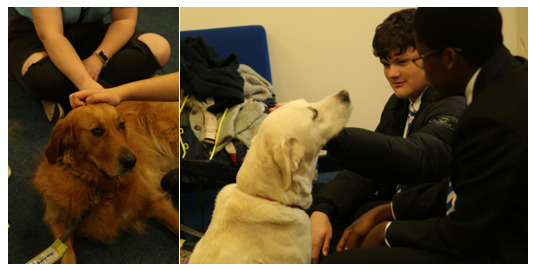 ---
Learning Support 'Star of the Week'

This weeks SOTW goes to two deserving recipients, to Ruth Gattenburg in Year 8 and to Tyler MacDonald in Year 7.
Both Ruth and Tyler have shown great resilience and have overcome their fears. Well done both. We are really proud of you and look forward to seeing you go from strength to strength as you take on anything!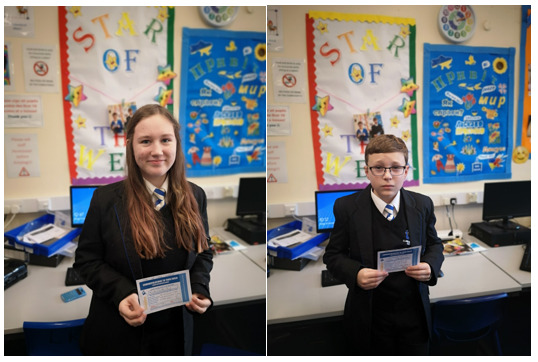 Year 7 meet Cally Rhodes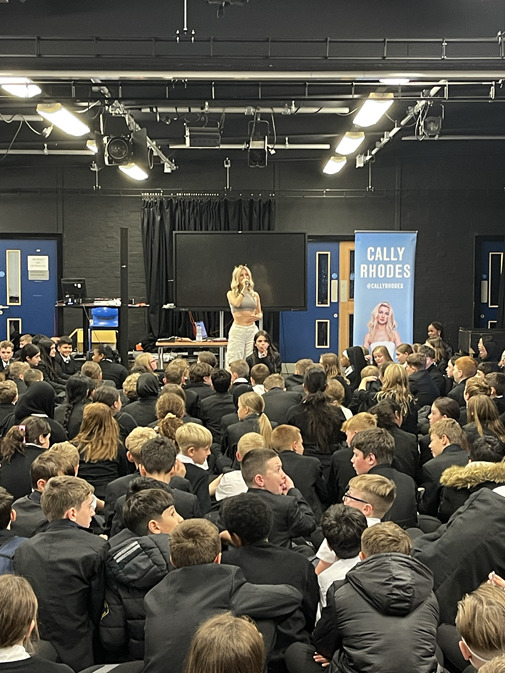 We had a very special visit last week from Cally Rhodes, an up and coming global singing sensation.
Cally spoke to our Year 7 students about the importance of working hard, ignoring the negative comments and looking after your mental health-in order to achieve success.
As you can see, Year 7 thoroughly enjoyed the visit, especially the TikTok video that was produced at the end of the session!
It was great to see Year 7 enjoying the session and no doubt we shall have some of our own superstars in due course!
---
Finally…
I shall leave you with a few paragraphs of eloquent story writing.
Mrs Cards Year 10 English class have recently undertaken a descriptive writing assessment in which the had to write about a time when they faced a challenge. Mrs Card was blown away by Darlene Juego's piece of work. It is elegant, sophisticated and beautifully poetic. Here are the opening two paragraphs:
"When petals fall, nature's delicate dance begins. It is a symphony of colours, a tapestry of beauty that unfolds before our eyes. Each petal, like a tiny brushstroke, paints the world with vibrant hues. They flutter and twirl, carried by the gentle breeze, as if whispering secrets to the earth below. Similarly, playing a piano piece in a concert is like dancing with the falling petals. The keys, like the petals, hold the power to create a mesmerising melody.
As I sit upon my seat – facing the piano – underneath the spotlight, my fingers are poised in position. Several beads of eyes are laid upon me, like a hunter to its prey. The ticking of the metronome is created inside me, awaiting the performance to start. Silence is hitting me. I take one last deep breath before I embark on my journey."
Thank you for reading/Diolch am ddarllen,
Mrs Sarah Parry, Headteacher