6 July 2023
Dear Parents, Guardians and Students/Annwyl Rieni, Gwarchodwyr a Myfyrwyr
Many great things came to LHS this week, starting with visitors who travelled quite a distance to reach us!
On Tuesday 4th July we hosted 24 visiting headteachers from Sydney, Australia. This is part of the international partnership we have between Wales and New South Wales and was the reciprocal visit to the study tour that I undertook in February this year.
The visiting headteachers were treated to a spectacular tour of the school courtesy of some amazing student representatives that included Hayden, Gwilym, Asel, Alic, Will and Ruben.
They then enjoyed a British cream tea and locally sourced Welsh cakes with the opportunity to speak to the senior leadership team about key issues including curriculum and well-being.
This partnership has given us a fascinating insight into a completely different education system and has certainly given us great food for thought. This is part of our membership of Taith which is co-funded by Welsh Government and provides opportunities for international partnership. Earlier this year a member of our physics team was able to visit Greece to study robotics in the context of the new curriculum. In autumn 2023, a group of students and staff will be visiting Murcia to look at the education systems in Spain. In the meantime, our student ambassadors are firming up their travel plans to Oz!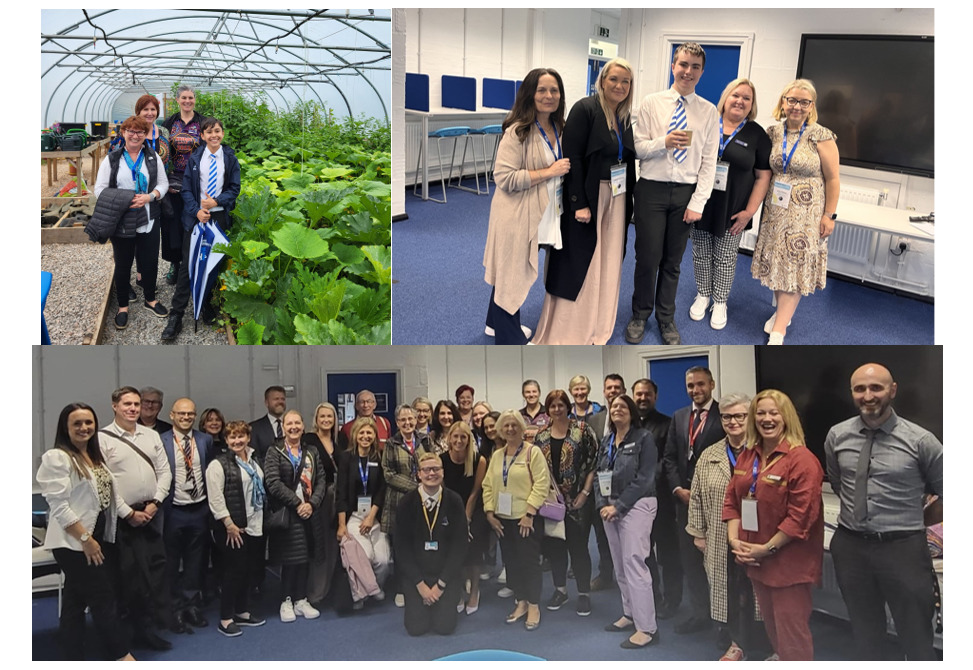 ---
Question Time comes to Llanishen High School!
As we said farewell to our Aussie friends, Question Time move in. On Wednesday 5th July we hosted a topical debate during which guests from the school leadership team and student services answered questions posed to them by the student panel.
The panel featured members of the senior leadership team including Mr White, Mr Maidment, Miss Evans and Mr Beaverstock. It also featured our esteemed Chair of Governors, Mr Caddick. Completing the line up were Mr McConkey from the estates team, and Mrs Warner from school catering. Mrs Parry took the role of Fiona Bruce on this occasion.
The audience were comprised of representatives from every form group in years 7, 8, 9, and 10 as well as representatives from the Special Resource Bases in school.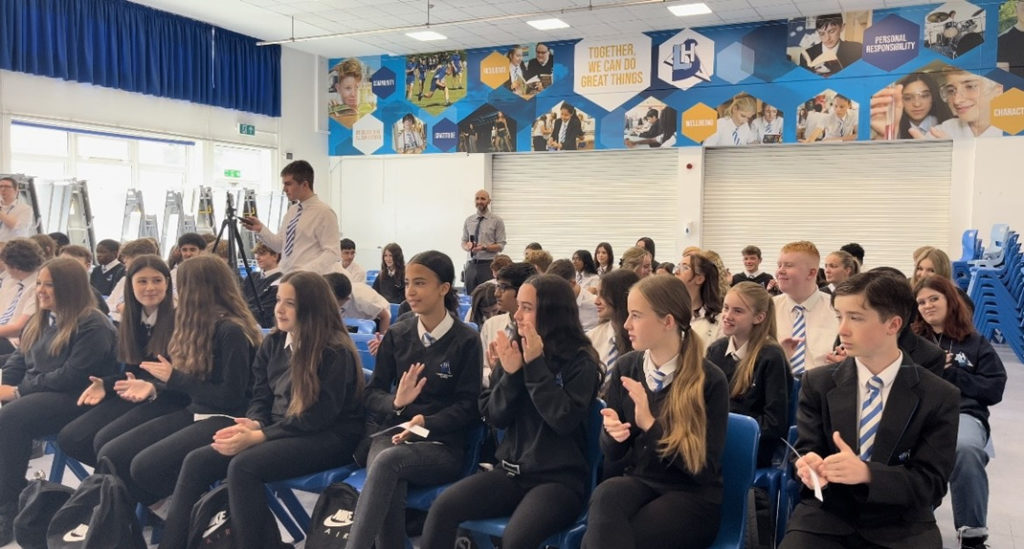 The audience posed a series of question to the panel. Here are some examples;
Ella Smith, representing 7A asked the following question:
We have noticed a lack of physical activity as part of the new Curriculum for Wales. For example, we only have PE twice a fortnight. Since one of the aims of the Curriculum for Wales is to support students to become 'healthy, confident individuals' who take part in physical activity, wouldn't it be beneficial for us to have more opportunities in this regard?
Robert Melkonian, representing 7H asked the following:
Can we reconsider the latest policy for lateness? We understand there has to be punishments for lateness, but we don't think that we should be in IER for being late. It is a disproportionate punishment as you also go to IER for fighting.
Representing 8A, Noah Davies asked why students can't go wherever they wish at breaktime.
Representing 8C, Rihen Zohar asked why blazers are compulsory.
Representing 10H, Maazin Rizwan asked whether teachers could decide whether students are allowed to use their phones during their lessons using their own discretion.
Representing 9E, Haji Ali asked some questions that sparked an interesting debate. First, because the school is a no vaping and smoking zone, people vape and smoke by the school gates. Does this bring a positive image to our school? He also asked about the school's recent activities to promote Pride month, and asked whether support could also be given to men's mental health month.
Representing 9D, Lily May Masterman asked whether the 2 canteens that serve Years 7 – 11 can have the same menu as the 6th form canteen.
Representing 9B, Jessica Bolton asked whether we could we have a day where we use the produce from the polytunnel to make a dish such as a curry?
Some really good suggestions for how to improve our school have been teased out through the debate. As we round up the responses we will be producing a 'You Said, We Did' document that will be circulated to all stakeholders next week.
The Question Time event was a well-timed opportunity for students in the school to feed into the school improvement plan for next year, and to influence change on issues that matter to them. It was also an opportunity to unpick and explain the rationale behind some the decisions that students might not like.
Not everyone got to ask a question, but fear not, Question Time will return again in the next academic year.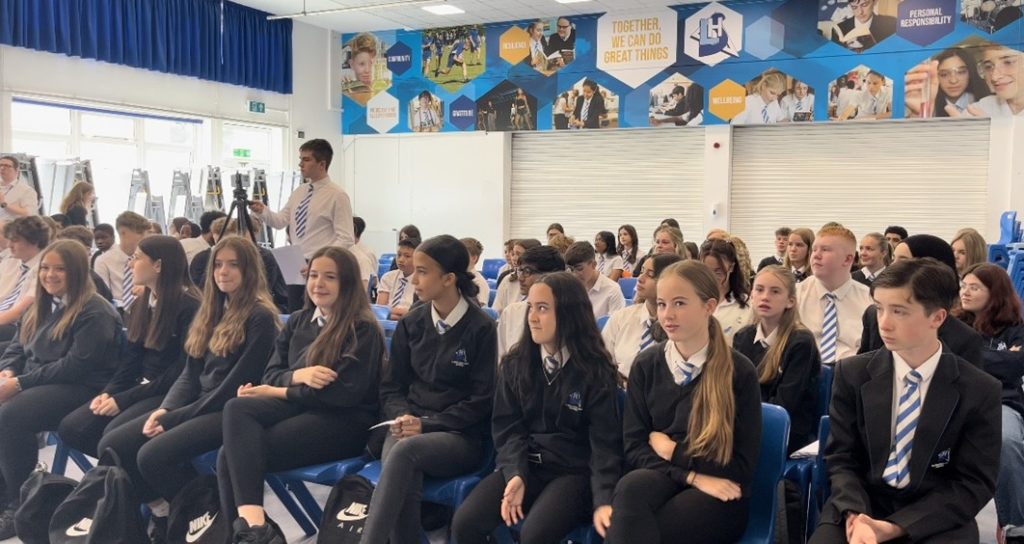 The video highlights will be coming out in due course. Watch this space. In the meantime, a few stills from behind the scenes.
Here are two of the brains behind the operation. The student comms team filmed the entire event (from different angles). Hopefully they are airbrushing us as we speak!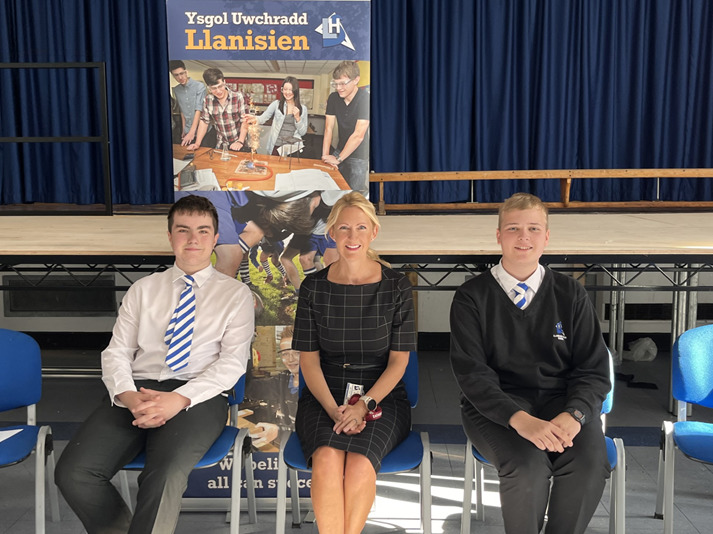 The next photo did make me chuckle. You've got to love a photobomber – especially when it's Mr James. He absolutely loves sweeping that stage! What a super star.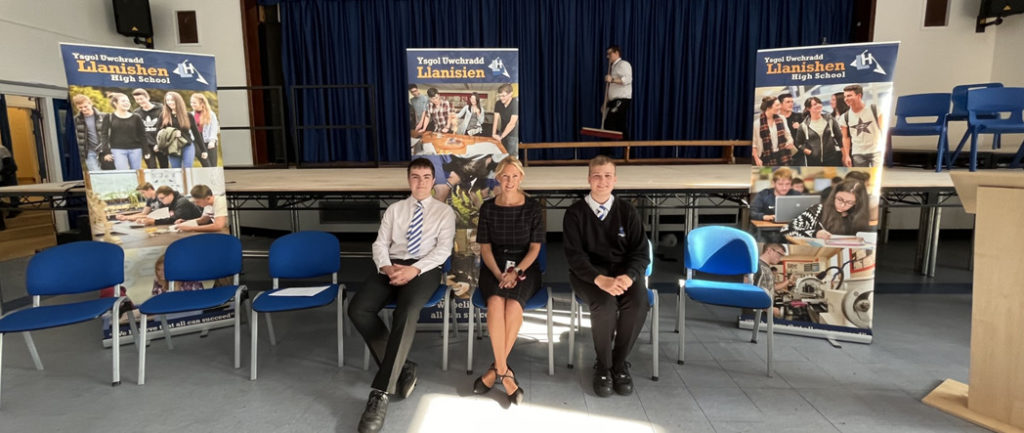 The next Question Time event will come to LHS in January 2024 as a mid-year check on progress made.
---
When Hot Chocolate with the Head takes on a more chilled attitude….
Over the last few humid Fridays, Hot Chocolate with the Head has become much more 'chilled frappe' with the Head, and many thanks to Lucy and her team in the kitchen who've come to the rescue with some chilled drinks.
The worthy recipients over recent weeks have been the top 3 groups in the Year 7 Humanities Social Action campaign. After putting together amazing presentations on diversity and thinking differently about our school, the group in 1st place were members of 7E – Aaron Grant, Gwilym Evans, Daniel Lynch, William Lynch and Youssef Mankoor. In 2nd place were 7A – Asel Kambal, Matab Abdalla, Alys Gunter and Anastasiia Dolgarieva. In 3rd place were 7J – Ava Brattel, Seren Ellis, Maisie Roberts, Ruby Saunders and Amelie O'Neil. All very worthy recipients. Thank you to Mr Mann and the Humanities team for implementing such an important and authentic project.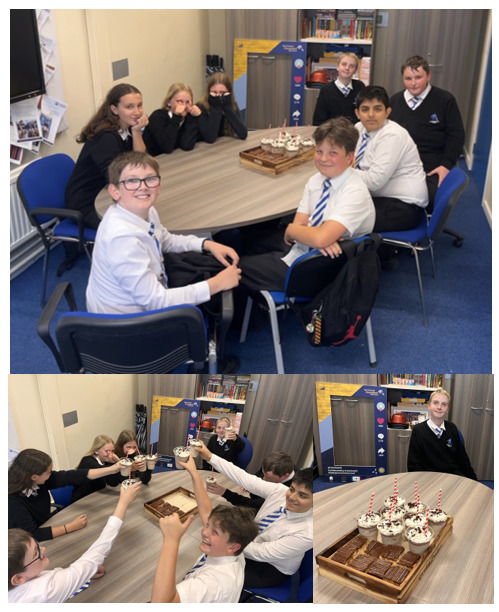 ---
Time to plan some summer reading
With just two school weeks remaining, we would like to encourage every student to select something engaging to read over the summer break. Not only will it lend itself to good wellbeing, but it will also expand vocabulary.
Here's an example of a recent and moving poem that was written by Faith Lydall in 7B and put forward by Mrs Price to be shared in this blog…
The Place Where Stories and Poems Come From
When the door of my life flew open,
And I first felt cool air on my cheeks,
My Mummy would read me stories.
The words cradling me as she'd speak.
And I would kick, I would wave,
I would roll, I would crawl,
To the place where stories and poems come from.
I felt the taste of adventure on my tongue,
When I learned how to read on my own,
I met dragons, fairies and the Gruffalo,
Exploring magical lands unknown.
And I would climb, I would leap,
I would skip, I would twirl,
To the place where stories and poems come from.
Now I'm twelve and going to High School,
And change gathers like rain clouds in a storm,
Tests and quarrels stain the sky like lightning,
But in the covers of books I'm safe and warm.
And I wrestle, and I run,
And I jump, and I fly,
To the place where stories and poems come from.
When I'm older and what they call mature,
I'll still fight the Minotaur in my spare time,
I'll lift the covers to another world,
And live an adventure that's truly mine.
And I'll walk sensibly,
Sensibly as can be,
To the place where stories and poems come from.
When the door of my life creaks to a close,
And moonbeams brush ripe avocado skin,
My wrinkled hands will turn musty pages,
I'll read myself into a book once again.
And I'll dance, and I'll dance,
And forever I'll dance,
In the place where stories and poems come from.
For my English teachers who inspire me
Love from Faith Lydall (age 12)
To add further inspiration for some summer relaxation, the English department are delighted to attach the Summer 2 Reading Newsletter that is brimming with amazing recommendations for different age groups. There is something for everyone.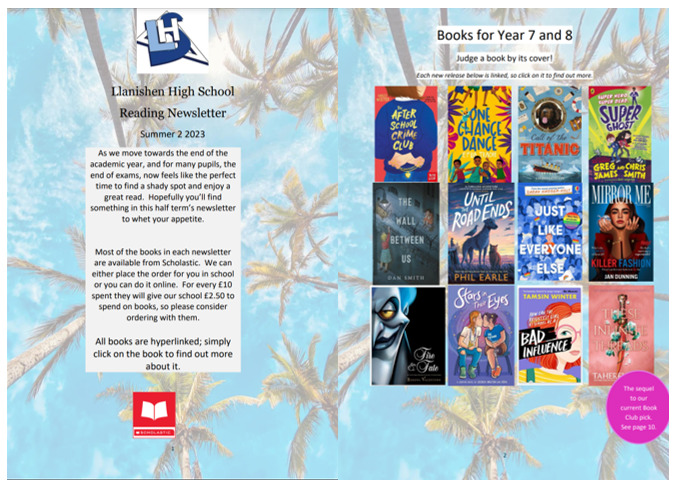 ---
Sporting heroes
First in our sporting heroes section we would like to congratulate Deacon Evans in 9E. On Saturday 1st July, Deacon took part in the Welsh Schools National Track and Field Championships. Deacon was the sole representative from Llanishen High School and competed for Cardiff and Vale Schools.
Deacon took part in the Discus event. Although he didn't win a medal, he did achieve 5th place in a very tight field. Only 20cm separated 3rd and 6th place! It was a great experience for Deacon, and he will be entering further competitions.
We certainly look forward to updates. In the meantime, here he is in action…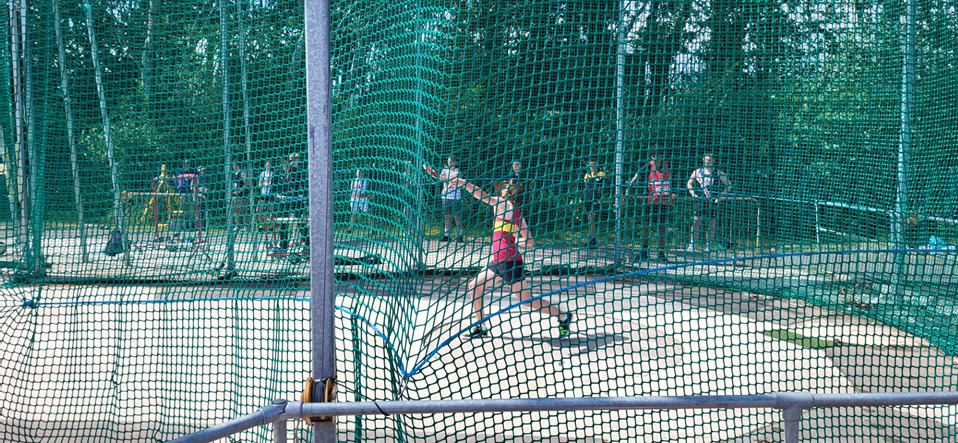 In other great news, Morgan Sumner in Year 12 has been selected for the Hockey Euros! Well done Morgan – we wish you an amazing tournament!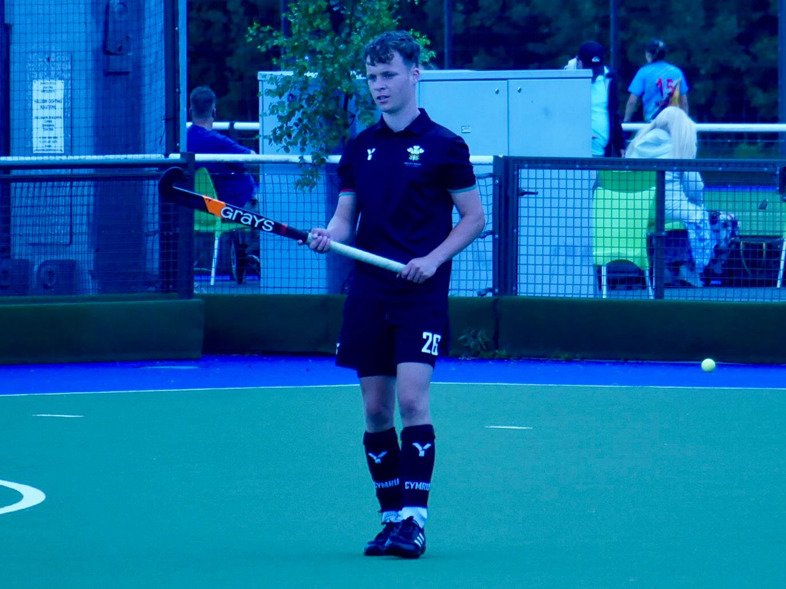 With two more weeks and still so much more to squeeze in, we look forward to updating you next Friday with more news and celebrations.
Thank you for reading/Diolch am ddarllen,
Mrs Sarah Parry, Headteacher