9 June 2023
Dear Parents, Guardians and Students/Annwyl Rieni, Gwarchodwyr a Myfyrwyr
Run for the hills! Or run an easy 21 kilometers around our beautiful capital city!
On Sunday 1st October, an 18-strong team of staff from Llanishen High School will be 'running' the Cardiff half-marathon to raise vital funds for City Hospice.
City Hospice is a charity that our school is so proud to support. They continue to support many families from our school and local community and continue to provide amazing opportunities for our students.
On our team this year we have an eclectic line up of staff including some 'seasoned' runners and some brand-new recruits! The time to beat is Mr Emanuel's eye-watering time from last year when he ran the course in 1 hour 27 minutes.
We would be so grateful if you would sponsor us with as much or as little as you can spare. And please spread the word! We are aiming to reach £6k.
Sponsor with Just Giving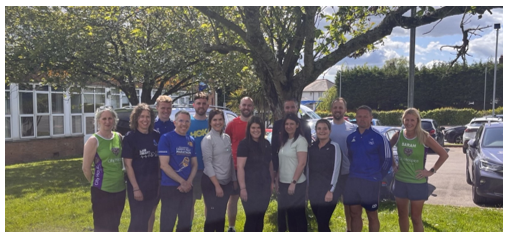 Along the way we will bring you updates on the successes and setbacks from our training as well as some insights into the reasons that staff are taking part.
In alphabetical (not speed) order, our line up includes:
Mr J Birchall (Physics and AWBQ), Mrs N Budge (HIU), Mr G Emanuel (PE), Miss R Evans (Assistant Headteacher), Mrs Grove-White (HIU). Mr T Healan (running on behalf of his mum, Mrs S Healan), Mr C Maidment (Deputy Headteacher), Mr J Owen (Year 7 Team Leader), Miss A Parry (Head of RE), Mrs S Parry (Head), Mrs E Pawar (ALNCO), Mr M Perry (Head of Mathematics), Mr M Prince (Geography), Miss K Purbrick (ASD), Miss V Thorne (Year 9 Team Leader), Mr H Trelawny (Head of PE), and Mrs R Watson-James (HIU).
---
LHS School Production 2023!
Next today is the feel-good event of the summer!
We are so excited to release the tickets for our summer production of 9 to 5 the musical. This year we return to the West Wing Hall and are throwing our doors open for 3 nights. The show starts at 7pm on Tuesday 11th, Wednesday 12th, and Thursday 13th July.
It promises to be an amazing night that will showcase the talents of students from Year 7 through to Year 13.
Tickets are £6 and can be purchased via Parent Pay or by contacting the Finance Team in school on 02920 680800.
We also look forward to welcoming Year 5 for a dress rehearsal performance on the morning of Monday 10th July, and Year 6 on Tuesday 11th July. We hope they will be awed and inspired to join the Expressive Arts extra-curricular programme when they join us in September 2023 or September 2024!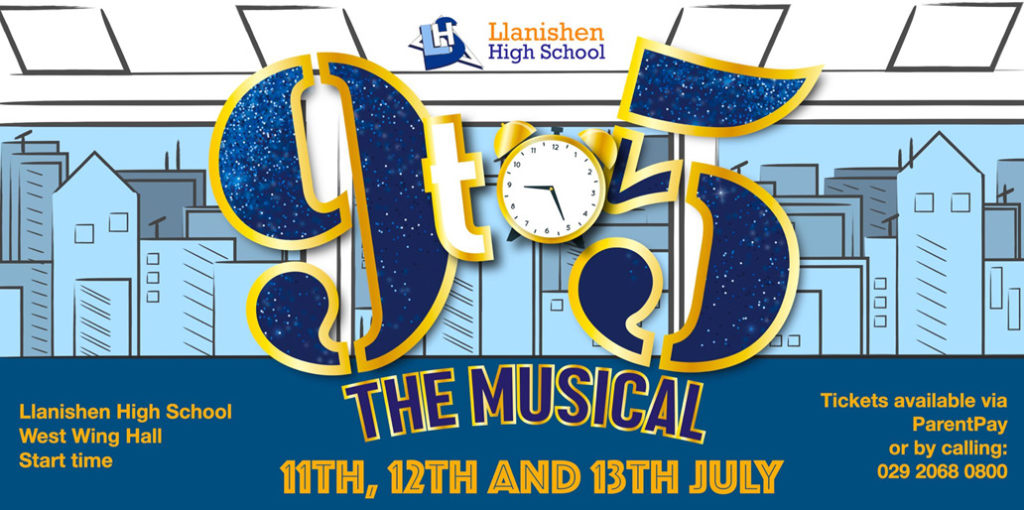 Now that rehearsals are gathering momentum in the West Wing Hall, it's amazing to hear snippets from the orchestra and to catch glimpses of the choreography taking shape.
Our thoughts are with the Expressive Arts staff as they tumble out of bed, stumble to the kitchen, to pour themselves a cup of ambition…
Get ready for some serious toe tapping. Keep an eye on our social media channels for some 'behind the scenes' sneak previews!
---
School Communications – social media
On that note, don't forget that you can follow Llanishen High School on Facebook (Llanishen High School), Instagram (lhscardiff), or Twitter (@LHScardiff) for all the latest news and information.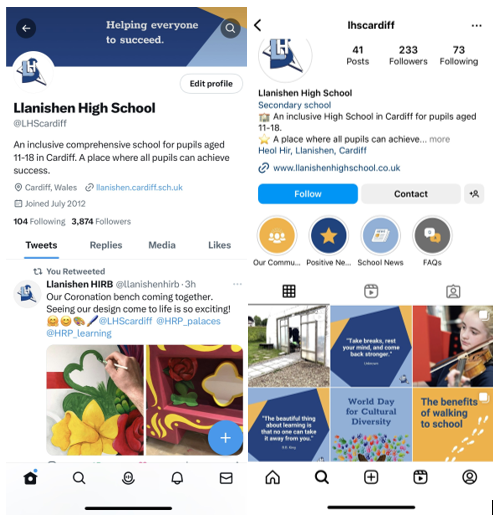 ---
School Communications – School Website
As we enter phase 2 of the development of our new school website, we are very keen to consult with parents to help us to shape the content on the landing page for Guardians and Parents. We want it to be functional, user-friendly, and full of the information and content that Parents and Guardians most need.
We would like to hold a series of focus groups in a face-to-face format so that we can have the website up on the big screen in front of us.
If you would be interested in coming to school to take part in the first session, please book your place by contacting my PA, Mrs Sue Healan, on 02920 680800.
The first session is planned for 2:00 – 3:30 pm on Monday 10th July 2023.
If you are keen to have a say but cannot attend this session due to other commitments, do not fear. Further sessions will be in an after-school slot and an early evening slot.
---
May half-term travels…
I would like to extend a sincere thank you to the LHS staff who gave up their May half-term break to lead visits at home and away. Year 9 had a fantastic trip to Paris. Year 8 had an equally fantastic, if a little more challenging, trip to Venice.
The resilience shown by the staff and students is to be commended. After their outgoing flight to Italy was cancelled, they endured a long night on the airport floor before finally making their way to Venice to find out that their luggage had not made the same journey.
Where many of us would have descended into a pit of despair, they showed great humour and team spirit. 45 pairs of florescent swim shorts later…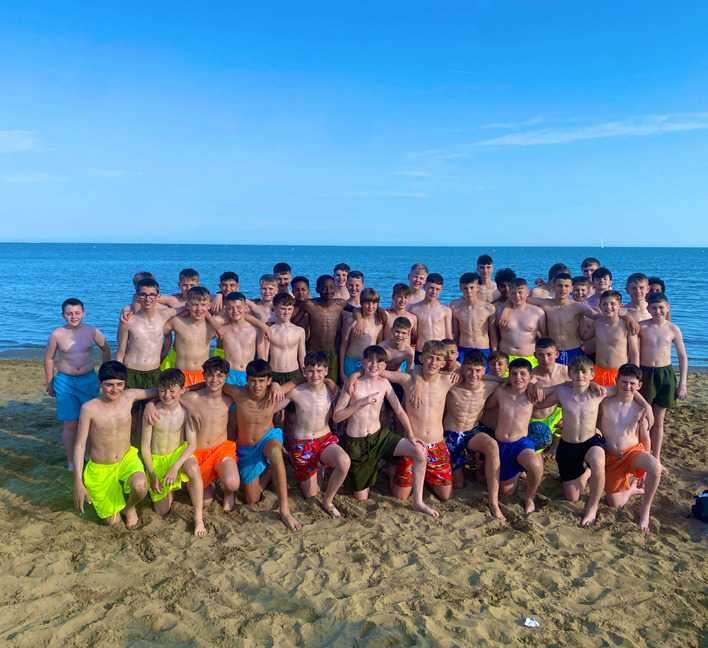 ---
Mrs Birch-Hurst and her Duke of Edinburgh Silver Expedition!
We are also very pleased to report that 30 of our students successfully completed their practice and qualifying Expedition in the Brecon Beacons at half term.
The hardy group camped, prepared food, cooked their own food, ate their own food, cleaned up after themselves and walked for an average of 6 -7 hours every day navigating themselves to check points using a map and compass.
They enjoyed a campfire at night and developed lifelong friendships.
The highlight was getting up at 2am on Thursday morning, to leave camp by 3am in order to get to the top of Pen y Fan Mountain in time to watch the sunrise. After three days of hard walking in the heat prior to this challenge, with blisters, injuries and weary bodies, Mrs Birch-Hurst was very proud to see all 30 students reaching the top to enjoy the spectacle of the dawn.
The group were above the clouds in a clear sky, and Mrs B-H says it was a privilege to be up there with such lovely students! They felt like they were on top of the world!
Special thanks have to be given to our sixth form student Ellis-Anthony Willis who gave up his time in the middle of his A-levels to support the group. He made an enormous contribution to the success of the trip, and we wish him every success in his pursuit of becoming an outdoor instructor in the future.
Here are a sample of some of the amazing photographs that Mrs Birch-Hurst snapped along the way. The photographs from the summit of Pen y Fan are taken from above the clouds!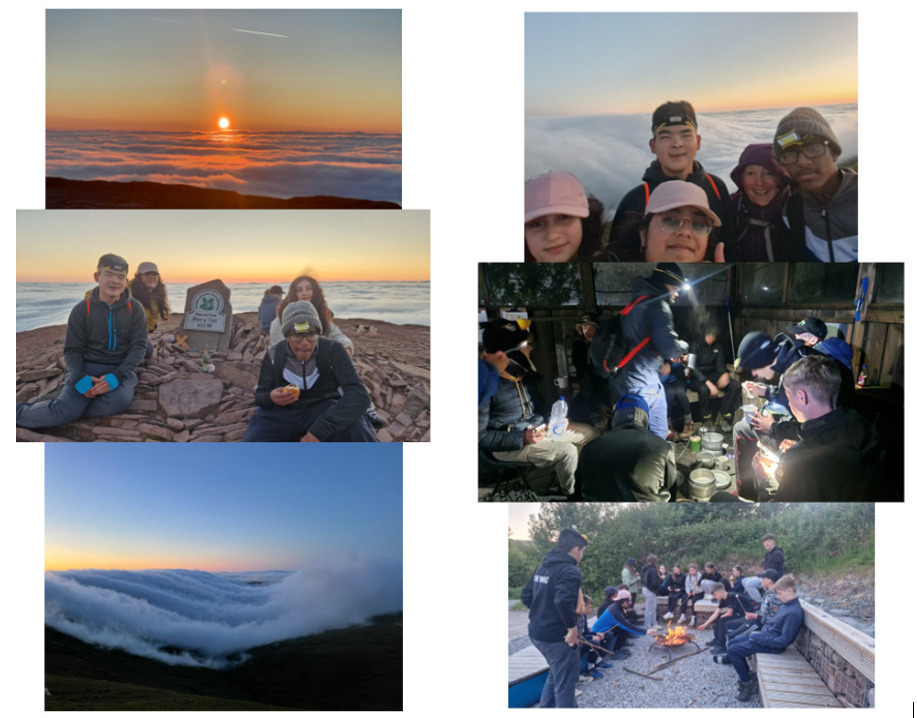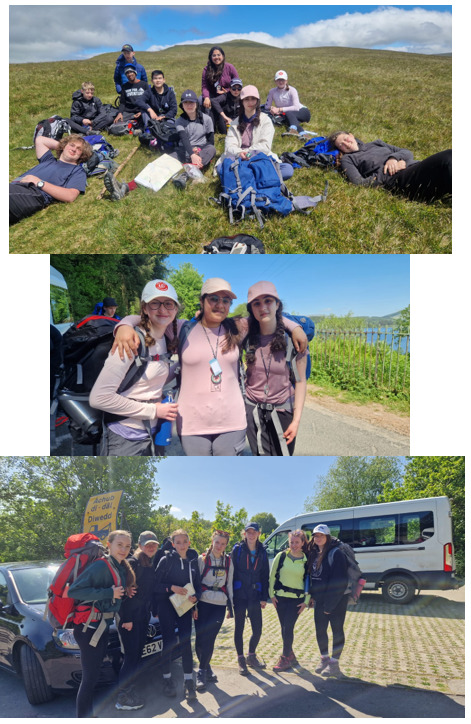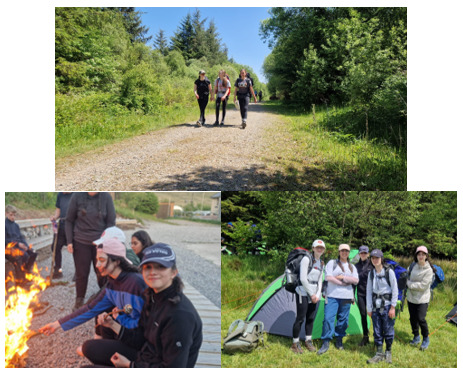 ---
Learning Support 'Star of the Week'
Kallum Llewellyn in Year 7 was last week's SOTW for his amazing and positive attitude towards school. This makes all the difference. Well done Kallum!
Coray Greedy in Year 8 is this week's SOTW for his fabulous Art club that he co-runs with Mrs Laidlaw in Learning Support during registration. Well done Coray.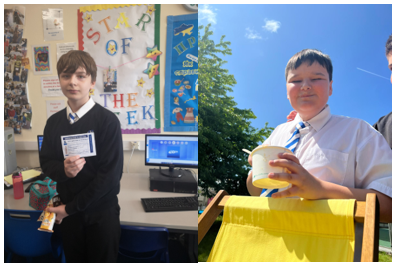 We hope that everyone managed to relax over the May bank holiday and school break.
We have a jam-packed half-term ahead so look forward to bringing you more news and updates.
Thank you for reading/Diolch am ddarllen,
Mrs Sarah Parry, Headteacher