18 May 2023
Dear Parents, Guardians and Students/Annwyl Rieni, Gwarchodwyr a Myfyrwyr
Let's talk about mobile phones, social media, and the generation that we are currently raising and educating
There aren't many students in Llanishen High School who haven't heard my repetitive lecture about life as a teenager in the 1980's.
There was one telephone in my house. It was permanently situated in the hall. It was attached to the wall with a flex that would only extend as far as the porch.
EVERYONE in the house could hear your entire conversation.
My dad could be heard in the background saying "she saw her friends in school today. What can they possibly need to talk about now?"
But here we are in a different age. We glibly comment that this generation can navigate an iPad as they exit the womb.
However, note the health warning. The ability to use social media and the maturity to use social media are not automatically in sync with one another. There is a very good reason that the legal age for the majority of social media platforms that cause us the most grief is 13.
How do parents navigate these treacherous waters with their children? How can school support parents in doing so?
So – Mobile Phones and Social Media, Where to begin?
Smart phones are changing the cultural influences on our children's development, and we have to consider what this means for us at Llanishen High School. In some ways, we as adults have arrived slightly perplexed and slightly late to the party. You broaden your understanding of 'Facebook' and 'Twitter' and think you've got it nailed when you work out that you send a 'tweet' and not a 'twit,' and then the world has moved over to 'Snapchat' and maintaining your 'streak' has now become the defining feature of your existence.
It is not dissimilar from the way that television and then computers changed our lives in our formative years. Mobile phones are now (relatively) cheap, easy, accessible and ubiquitous aspects of our students lives. I'm told that 99.7% of the worlds' population own a mobile. And 75% own a smart phone. They are used by our students 'compulsively.'
Verified research now corroborate the previously held suspicions around the impact on learning, social skills and mental health. And we hear a lot about the negative impact of this and the need to be 'liked' in order to validate self-esteem. The use of social media is also affecting our culture. Peer groups are constructed in social media and online bubbles and can be populated by people scattered across the globe.
These broadened horizons could bring benefits and expose our children to ideas from other cultures. Equally, they remove the influence of our 'local' culture and particularly that of the family and school. Either way, the one direction that we cannot travel is backwards. So how do we best support our young people in this brave new world?
We have adapted the school curriculum to teach our young people to be digitally competent citizens. We have run assemblies and we educate at every opportunity. Parents and guardians are our essential partners in this. Analysis shows that an increasing number of the bullying issues that we respond to are entwinned with the malicious use or misuse of social media outside of the school setting.
Our young people do not always have the maturity to anticipate the unintended consequences of what they post in the online world. Much of this is originates out of school and children can be targeted at any time of day, in their own homes and in their bedrooms at night.
It is approaching 5 years since we took the decision (bold at the time) to ban the use of mobile phones during the school day at LHS.
This decision has, without doubt, transformed student wellbeing and reduced incidents of bullying. It has reduced distraction in learning.
Amongst our core values are inclusivity and equity for all children. By removing the use of mobile phones within our school day, we have removed a barrier for the increasing number of families who cannot provide the 'latest smartphone' for each of their children. Within the school day, learning takes place via a wide variety of pedagogy, and supported by school provided digital devices where appropriate.
In Year 8 assembly this week, Mrs Tyler and Mr Maidment have been exploring how social media can impact upon your reputation.
They focused on the example of a Gloucester A-Level student wrote to his MP asking for work experience. However, after making a very derogatory comment, using derogatory language, about his school on Twitter, he received the following response.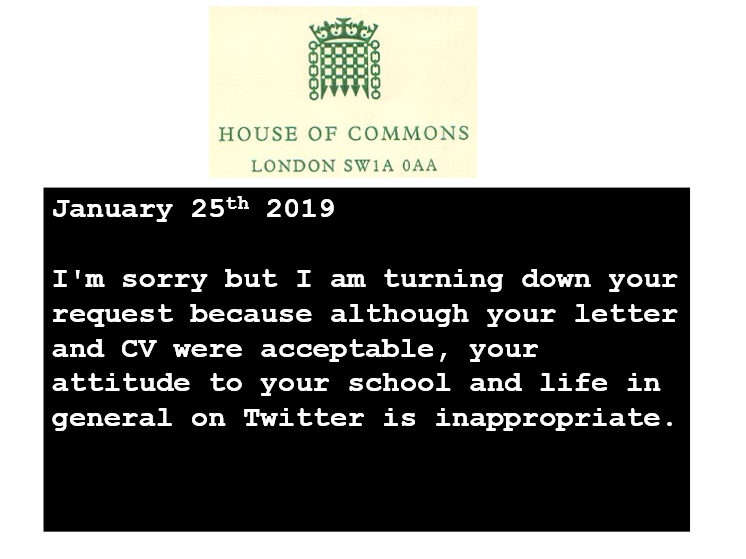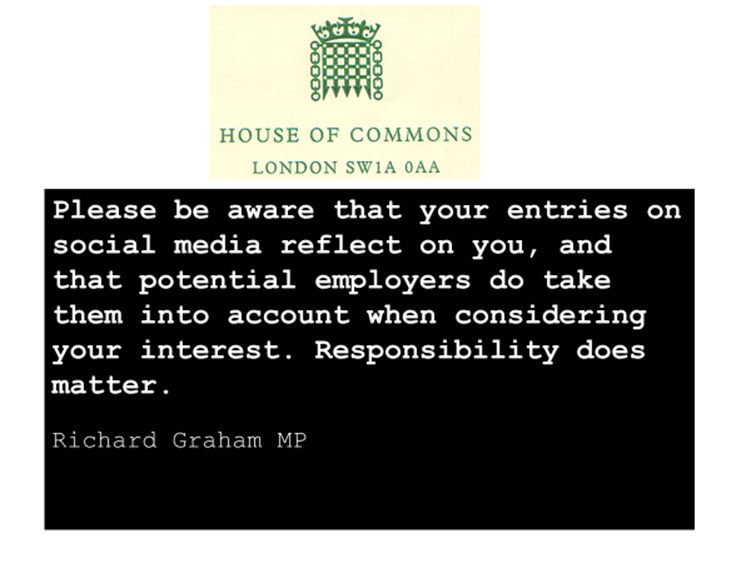 Ninety-one percent of employers surveyed say that they do screen social media platforms to ascertain the suitableness of candidates for employment. 69% of employers say they have rejected a candidate because of what they saw about them on a social networking site.
It is wise to take care over your privacy settings. But it is even wiser to avoid posting negative comments full stop. It's not just about your reputation and future prospects. It is about the kind of human being you want to be.
Our message has always been, if you wouldn't print it on a t-shirt and wear it, don't post it.
Select your friends carefully and remember that if someone doesn't know you, then they don't have a right to see your information.
We will be running further assemblies for Years 7 to 10, but in the meantime, here are some questions that can support positive parenting in relation to the use of mobile phones:
Is your child legally old enough to be using social media platforms?
Is your child mature enough and aware of the need to be safe online to be using social media platforms?
Do you talk to your child about their use of social media, their understanding of the dangers associated with social media, and what to do if they feel something isn't right?
Do you check your child's phone on a regular basis to reassure yourself that they are keeping themselves safe online?
What happens to your child's device at night? Is it switched off and stored in a safe place? Or is it with them in their bedroom through the night?
These are some starting points for consideration and are designed to start a conversation. As we develop further resources on this topic, we will share them with parents and students.
For now, a glimpse back at life in simpler times…..my first mobile phone (you couldn't make calls from it, but you could pull it around with you) and my state-of-the-art home phone….

---
A tremendous fundraising effort!
I'm so pleased to now bring you a fantastic example of how technology can be positively used to support a great human effort.
Faith Lydall in Year 7 completed an amazing challenge last weekend. Last month she came up with the idea of challenging herself to walk 15 miles along the Welsh coastal path as she wanted to raise money for a children's cancer charity she heard of in primary school, called Holibobs.
Faith completed the walk on Saturday 13th May, walking from Monknash to Llantwit Major and back, just over 15 miles. It was a big challenge for her and she was aching after, but we are all very proud of her, and she said it was worth it to be able to help. She has also raised nearly £500 in sponsorship money too. You can read the page Faith wrote about the charity on the following link:
Emma Lydall is fundraising for Holibobs (justgiving.com)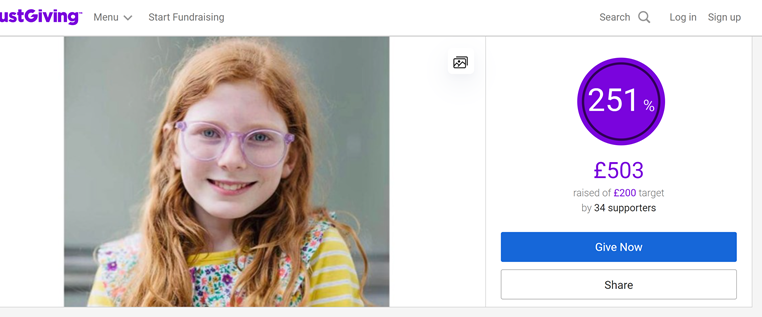 ---
A masterclass in Art!
Our Year 11 and 13 art students will agree that last week was a busy one in the Art department, with GCSE students of Art and Photography sitting their exams. These continue over several days, so the students need to show their endurance as well as their skills! Here are some examples of the work completed during the GCSE exam.
Also last week, the A Level Art class sat their 15-hour final exam, showcasing their talents. You can see them hard at work on some very intricate and skilfully produced oil paintings.
We congratulate both years 11 and 13 on some amazing artwork and for the care and effort they put into creating their masterpieces. Here are just a few example of their creative excellence……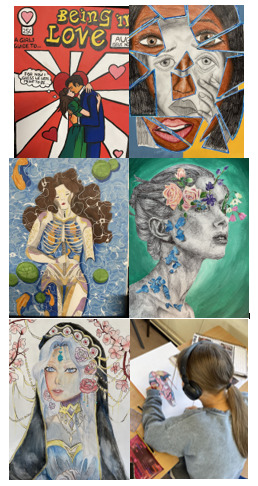 ---
Year 7 return with silver wear!
Congratulations to our Year 7 boys who attended a football tournament in Bournemouth over the weekend, they played absolutely amazing and brought the champions winning cup home with them.
We are very proud of the achievements of Izaac Atas, Liam Scourfeild, Isaac Williams and Jack Coles-Thomas. Well done boys!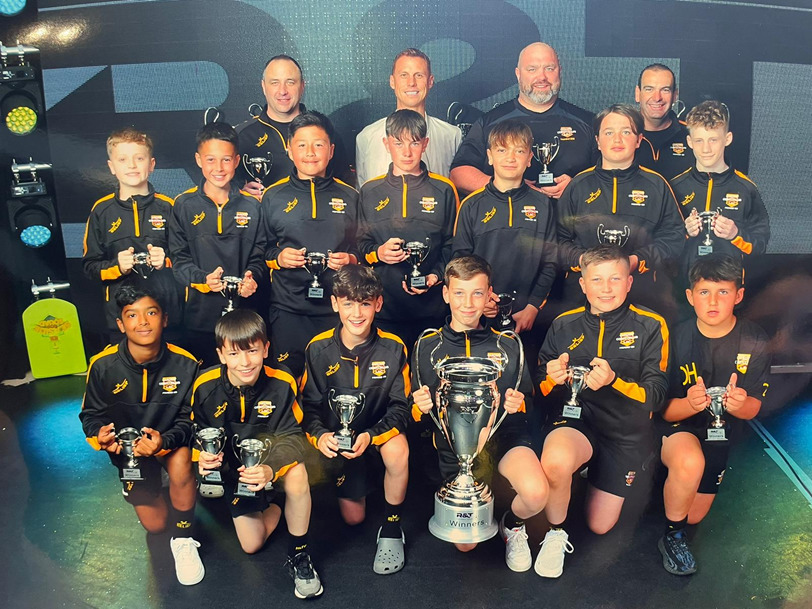 ---
Next collection for the Cardiff Foodbank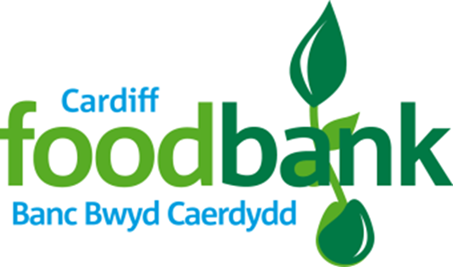 The next collection for Cardiff Foodbank will take place on Wednesday 24th May 2023, between 5-6pm at Llanishen High School. Any donations can be delivered to our reception area in advance.
---
Exciting updates from the PTA!
The PTA raises money throughout the year and has helped buy lots of different resources for students, including part funding a minibus, financing a school show, furniture for the sixth form study area and common room, litter pickers for the Eco Council, and most recently, badminton equipment for our inclusive badminton club.
Please join 'Easy fundraising' using the link below to make money for the PTA – free to the user and very easy to use:
https://www.easyfundraising.org.uk/causes/llanishen-high-school-pta/
Here are some other ways that you can support and get in touch….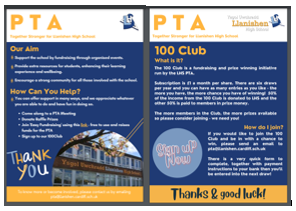 Thank you for reading/Diolch am ddarllen,
Mrs Sarah Parry, Headteacher