5 May 2023
Dear Parents, Guardians and Students/Annwyl Rieni, Gwarchodwyr a Myfyrwyr
This weeks' blog features some Mathematics, English, and PE for starters!
Maths Circles and Maths Battles!
Maths Circles are weekly training sessions exploring topics that promote the art of problem-solving, such as elementary mathematical logic, induction and the pigeonhole principle. Maths Circles teach students the general problem-solving skills as well as the ability to present one's results clearly and coherently.
Maths Battles are mathematical debating competitions between two opposing teams. The emphasis is on joint problem-solving and collaborative working rather than personal gain. The teams are not just to solve given set of mathematical problems, but also to present solutions clearly and defend them under the scrutiny of the opposing team.
One of our very own students, Jasmine Lee in Year 10 has taken on this challenge and has fought bravely and with precision, using strategy and logistics to defeat the opposing team.
We have no doubt that she'll continue to add to her victories and we will be rooting for her in future battles. (Please note Mr Denison-Kurg's hilarious use of maths puns 'add' and 'rooting'!)
Here we have Jasmine alongside the group. You can find out more on the Cardiff University section of the "we solve problems" website: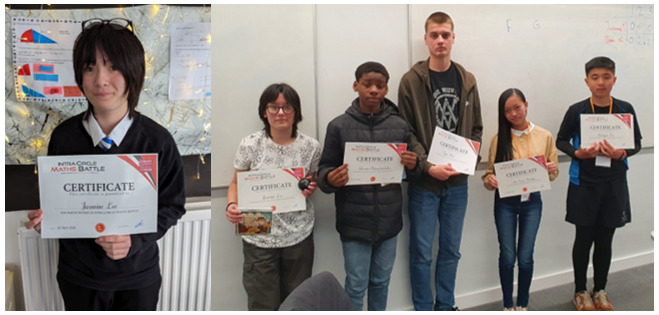 ---
Young Writers!
Over in English, Mrs Hennessy was thrilled to receive wonderful post from 'The Young Writers' publication team to highly commend entries made by her students.
The competition invited students to create a mini saga with a numerical element to it. The competition was entitled "Integr" and was a challenge to a sometimes numerically challenged English teacher, but not so for many of her students!
Students were presented with certificates and a letter explaining that their work was impressive enough to be published in a book.
We're now looking forward to entering our next competition! This time writing poetry to inspire change. Well done to all who entered. Below are just some of those who can now boast that they are soon to be published authors. Superb!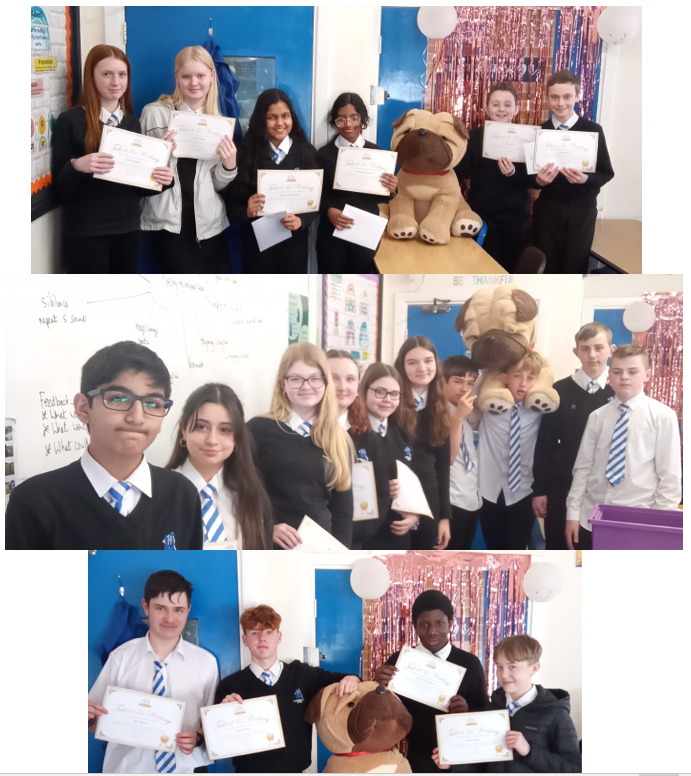 ---
Wales V England U18 Hockey – The Clash of the Titans
Time for an injection of physical prowess. Many congratulations to Morgan Sumner and Amy Partridge who represented Wales U18s on the weekend in a test series against a very powerful England squad.
The boys games were extremely competitive and after leading the 2nd game 2-1 with minutes to go, Wales agonisingly lost 3-2. The girls acquitted themselves well against England and will be able to take a lot from the weekend. Both Morgan and Amy will hope to be selected for the U18 Europeans to be held in Swansea in July and we wish them well for this and hope to take students to support.

---
Hockey Welsh Plate Winners
And what a fab weekend for 2 of our younger hockey players. Many congratulations to Finn De'Ath and Iris Hamilton Potter who both won the Welsh Plate U14 Competition with Whitchurch Hockey Club. Not only are they both very hard working, skilful players, but they are also developing into excellent leaders, both captaining their respective teams to victory. Many congratulations to you and your teammates. The future is very bright.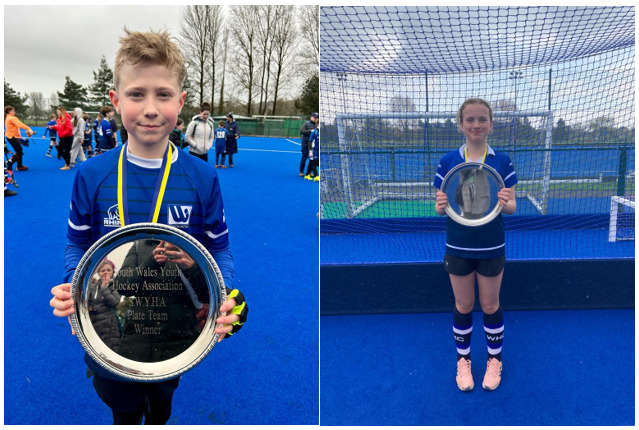 ---
Girls Cricket!
This is a pertinent time for a reminder that girls cricket for years 7 to 10 takes place every Thursday from 2.45 – 3.45pm.
They train both indoors and outside so carry on regardless of the weather. IT'S ALWAYS ON!
Everyone is welcome and the team enjoyed cake last week to celebrate Eve's birthday. (can't promise that every week though!)
Dates for the diary:
U15 Schools Competition – Thursday May 25th @ St. Fagans from 9.30 – 2.30pm
U13 Schools Competition – Thursday June 8th @ Radyr from 9.30 – 2.30pm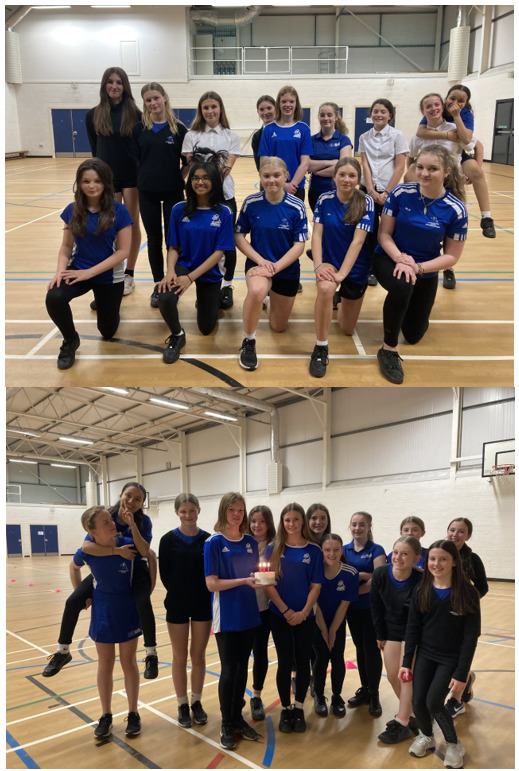 ---
Learning Support 'Star of the Week'
The Learning Support SOTW this week goes to the extremely hard working Osian Burris in Year 7. Osian received excellent results in his recent Maths test and always puts in 100 percent in whatever he does. Keep up the hard work Osian ☺️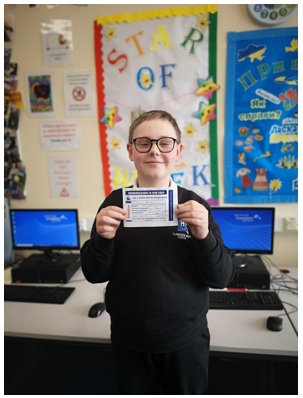 ---
Thank you from Cardiff Foodbank
Next today, a massive thank you to everyone for the tremendous quantity of donations for the Cardiff Foodbank! Below is the certificate received from the CFB displaying the total as 217.3kg of which will provide 20 local people with 3 days of supplies. Your continued support is very welcomed, especially in sourcing the selected needed items.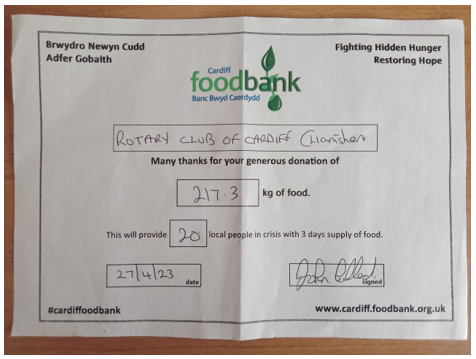 ---
Let's finish with a book review!
We finish today with a book review from Maisie Lancaster in Year 9. Maisie attends Mrs Hazeltine-Rees' book club where there is always a warm welcome for any new students who would like to join.
I'm showing my age now by saying that this took me back to many episodes of 'Murder, She Wrote' with the late and great Angela Lansbury!!
By the time you read this I'll be gone (Murder She Wrote)
Stephanie Kuehin
This book follows the story of a teenage girl called Beatrice Fletcher. As a hobby she enjoys solving unsolved mysteries much alike her great-aunt Jessica Fletcher, the famous mystery book writer. Unfortunately, when her best friend goes missing, the mystery gets personal, and she gets caught up in a tangle of lies. Beatrice unravels secrets and puzzles as well as finding new friends and allies who loving solving clues. However, you never really know who's telling the truth.
I think the author was very clever taking an old, classic book and putting a modern twist on it. She uses new and old characters to create an exciting story with twists and turns at every corner. In parts of the book Beatrice writes a blog and I thought that it was a brilliant idea to change the font and style of the writing to show that it was typed. This made the story seem more modern.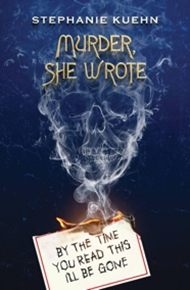 In my opinion I think that the ending of the book was very exciting and explained what everything meant extremely well. However, I personally felt like it was hard to get into the book. The start was almost so mysterious I didn't know what was really going on. Nevertheless, once I got into the book, the story kept me interesting to the very end.
I would recommend this book to people who enjoy detective or mystery books. To my mind this book was a 7/10 as I felt that the book was very slow to start with. However, on the whole, it was a fabulous book, and I would never have guessed how the book would end.
Maisie Y9
Wishing all our readers a lovely bank holiday weekend. We will see you bright and early on Tuesday 9th May.
Thank you for reading/Diolch am ddarllen,
Mrs Sarah Parry, Headteacher