28 April 2023
Dear Parents, Guardians and Students/Annwyl Rieni, Gwarchodwyr a Myfyrwyr
It's that time of year again…how quickly it comes around
This half term is a very particular time in the school year that can only really be 'experienced.' However, I will attempt to capture it for our parents, governors and community partners.
This is the time in the academic year when the following conditions apply and the following asteroids all collide on one path:
Year 13 prepare for the most important examinations of their academic life so far
Year 12 prepare for the most important examinations of their academic life so far
Year 11 prepare for the most important examinations of their academic life so far
Year 10 prepare for the most important examinations of their academic life so far
I'm sure you get the picture! That's nearly 900 young people undergoing the stress of formal external examinations. It also means 111 members of teaching staff supporting those young people, and 98 members of our support staff body supporting the teaching staff and the young people.
Essentially, the school community is saturated in revision, sweat, and all the emotions that come with this. And don't get me started on our amazing examinations team who are currently preparing to hold over 3,000 separate examinations to be completed by the third week of June. Worth their weight in gold.
At the same time as we plough our energy into the final weeks of teaching, learning and revision, we are also navigating the most challenging budget settlement in living memory. The impact of the rising cost of living has hit the education sector without mercy at a time that we desperately need to invest in well-being services for students more than ever before. Our strategic spending plans must be more meticulous than ever.
However, the challenge of exams, emotions, budgets, curriculum reform, ALN reform, and continual school improvement is one that our school community embrace with determination, resilience, intelligence, and energy.
We have the privilege off being members of a very unique and inclusive community and we get to keep a balance and keep perspective because of the amazing teaching and learning that takes place in each classroom each hour of the day.
Join me now on a typical one-hour learning walk around the school…
Let's start in the Art department where I dropped in on Mr Fosters Year 9 GCSE Art group. The students were engaged in a plethora of artistic techniques ranging from lino printing to watercolours, calligraphy, and oil painting. Every student was fully engaged on their individual portfolio of work. The standard of work was exceptional. Here are a few examples…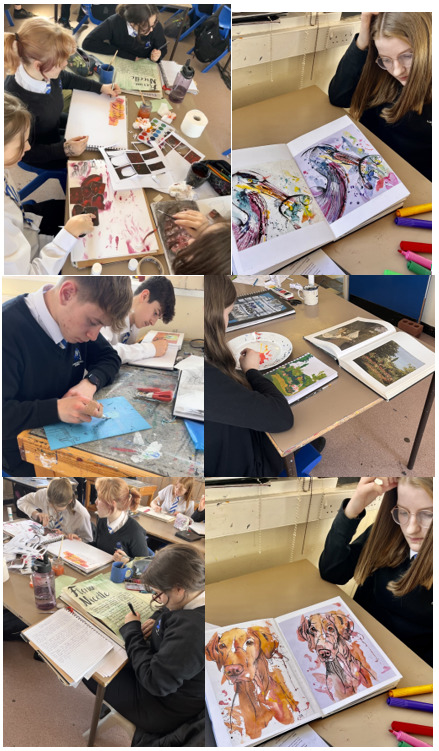 My nose then led me in the direction of Mrs Pettit's Year 9 GCSE Food class where the class were putting the finishing touches on their Glamorgan sausages.  The aromas of potato, cheese and leek were mouth watering as students worked collaboratively and independently through the process.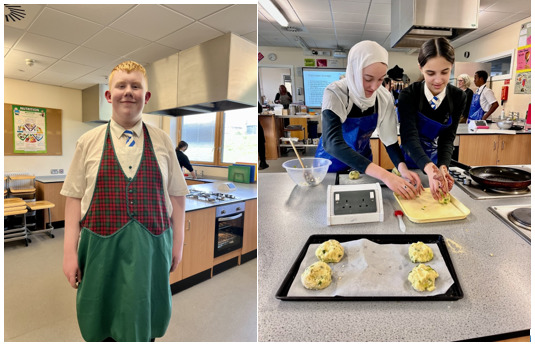 Over in the polytunnel Miss Bright's Year 7 Health and Wellbeing group were putting the final touches on their bug hotels.  This bug hotel even got its' first visitor!!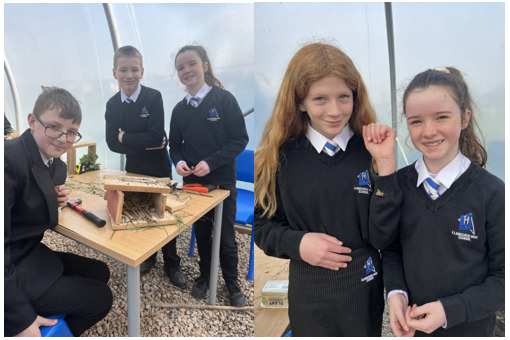 Moving on, Mr Watkins' GCSE Digitech students were checking out the inner workings of computers….(legitimately and in the name of education).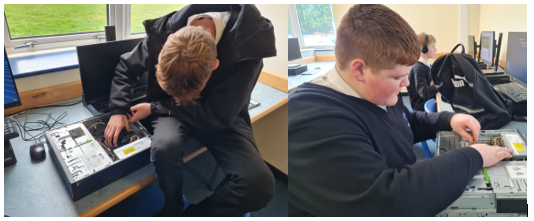 Over in Humanities, Miss Hinchey's Year 7 class were hard at work creating overviews of some festivals of the 6 main world religions. Very impressive notetaking and presentation.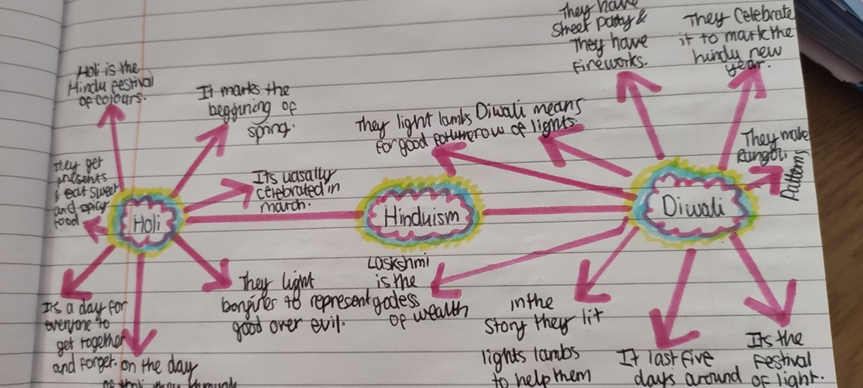 Across the corridor from Miss Hinchey, Mr Princes' Year 7 class were ploughing their energies into ways that we can contribute to awareness and action about Earth Day.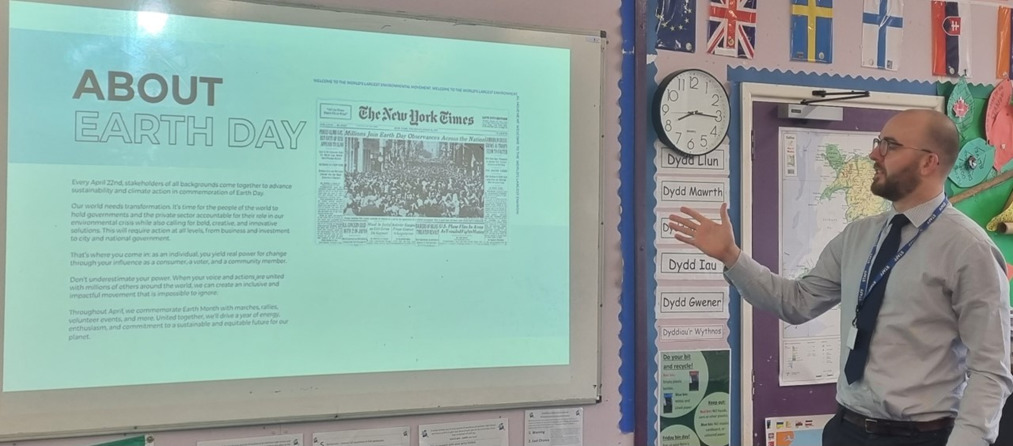 It is always a grounding pleasure to roam the corridoros, dipping in to lessons.
Wales U18 Hockey Success!
In other news, please join us in congratulating Euan James, Amy Partridge, and Morgan Sumner who have all been selected to represent Wales U18s this spring/summer.
Euan made his debut during the Easter holidays and performed really well for his first outing at international level.
Amy and Morgan had very successful Easter's with Morgan in fine goal scoring form and Amy producing some excellent saves in a winning team. Amy and Morgan have also been selected to play a tough double header against England this weekend. We wish them all the best and look forward to following their progress.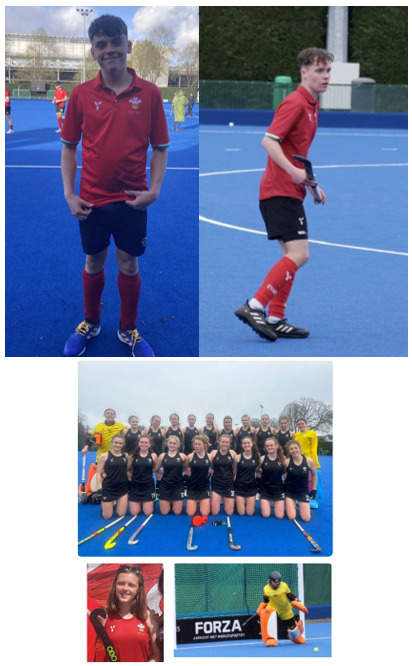 A British Formation dancer in our midst….
Next today we would like to celebrate the amazing achievements of Amelia Reed in Year 10. Amelia dances in a formation team and recently represented her dance school at Blackpool, competing at the Blackpool Winter Gardens! Both the teams that Amelia is in were placed sixth.
Amelia has also competed at the World Cup Championships in Stoke back In February. Her next competition will be at the European Formation Championships in Stoke on 13th and 14th May and we wish her every success!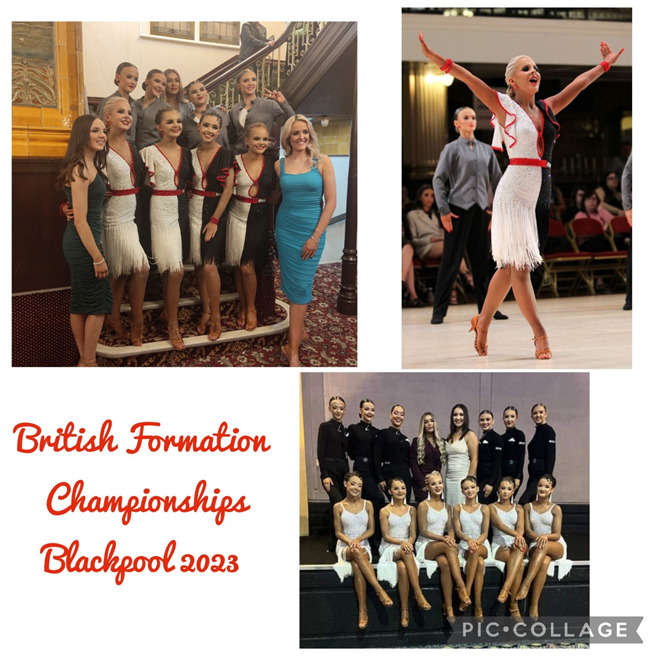 Learning Support 'Star of the Week'
This weeks SOTW is the fabulous Ethan Davies in Year 8. Ethan joined Llanishen High School in Year 8 and has settled in so well.
He is a perfect addition to the Learning Support team. Ethan puts amazing effort into all his lessons and is a keen chess player. Well done, Ethan! 😁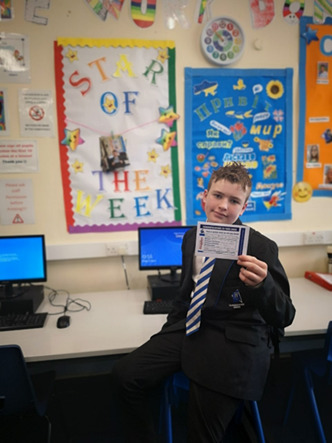 Wishing all our readers a lovely bank holiday weekend.  We will see you bright and early on Tuesday 2nd May.
Thank you for reading/Diolch am ddarllen,
Mrs Sarah Parry, Headteacher