23 August 2023
Dear Parents, Guardians and Students/Annwyl Rieni, Gwarchodwyr a Myfyrwyr
Congratulations to all of our Sixth Form students on a triumphant day!
The photo that encapsulates the day…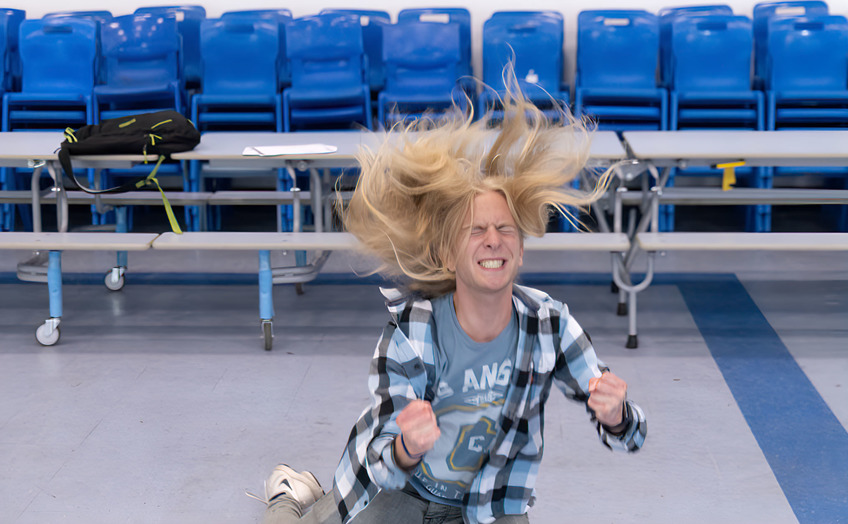 There was not a dry eye in the hall this morning when Matty Driscoll dropped to the floor with sheer joy! And that's the joy of receiving A*, A*, A and securing a place at Cardiff University to study Politics and Economics. What is equally wonderful is Matty's journey and motivation. After joining our autism base in Year 7 Matty has excelled through his school journey. He can't wait to study Politics and Economics so that he can focus on improving peoples living standards and make a positive impact to alleviate social and economic injustice. We are in safe and passionate hands.
This morning, it was an absolute joy to welcome our Sixth Form students and family members into school to celebrate a range of incredible achievements. Despite the challenges that they have faced over the last four years, their determination, hard work and resilience has prevailed.
Every cohort is unique in nature, and the Year 13 class of 2023 are no exception. Over their time at LHS they have dazzled us with their musical and creative talents and amazed us with their approach to their studies.
Please join me in celebrating and congratulating each individual. We are extremely proud of their achievements in the full range of AS, A2 and BTEC level 3 qualifications.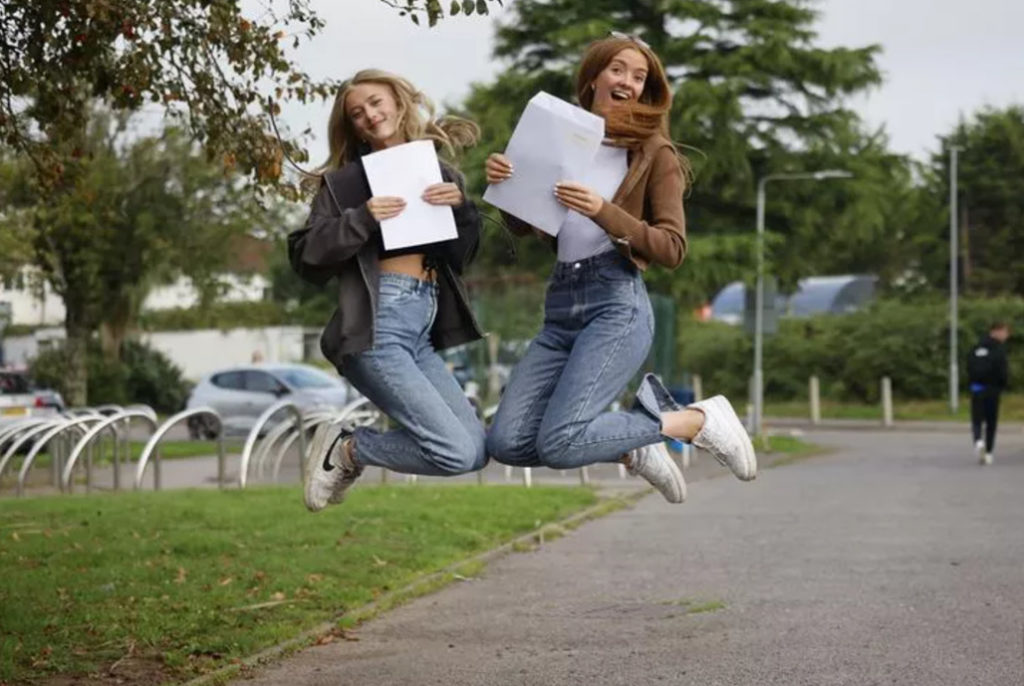 Success doesn't look the same for everyone, and we believe it's vital to acknowledge and appreciate that all of our students have unique aspirations. This is why we're proactive in our student support from the moment they step through our doors in Year 7 until they leave at the end of Sixth Form. Today's results reflect that, and we wish our students the very best of luck in their next steps – we can't wait to see what the future holds for you.
Outcomes in all pathways are very strong, allowing students access to worthwhile vocations, career entry and university places. Many students have successfully secured places at a range of universities to pursue a wide range of degree courses. Within the outcomes today, 32% of all grades were achieved at A* – A, 65% of all grades were achieved at A* – B and 82% of all grades were achieved at A* – C.
Success in the Advanced Welsh Baccalaureate was a contributing factor for many of our students in securing UCAS success, with 30% of grades at A*-A and 66% of grades at A*-B.
There are huge successes across the board that will see our students moving onto a wide range of courses and apprenticeships and we are absolutely delighted for them all. Over 70% of the cohort are headed to universities that include Birmingham, Manchester, Liverpool, Swansea and Warwick to name a few. The courses that they will pursue include everything from Computer Science, to Economics, Politics, History, Nursing, Music, Drama, Human Geography, Theatre and outdoor studies.

Here is a snapshot of some of our stories that we've captured in words and pictures this morning! They show the great diversity of onward journeys….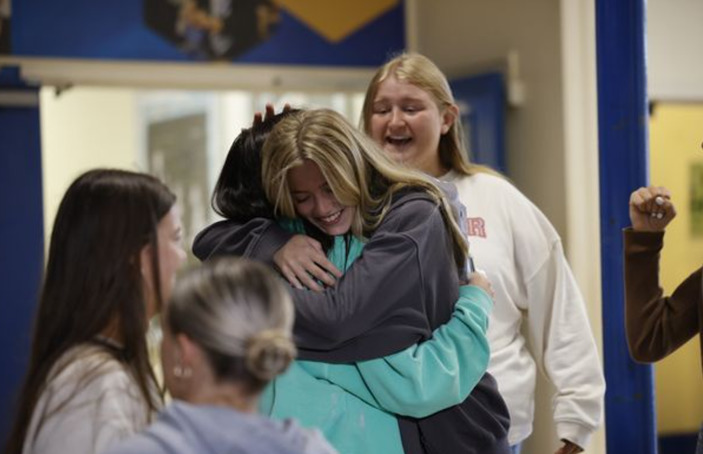 Congratulations to Ellis-Anthony Willis who is going on to study Outdoor Adventure Education at the University of Wales Trinity St Davids. A superb young man!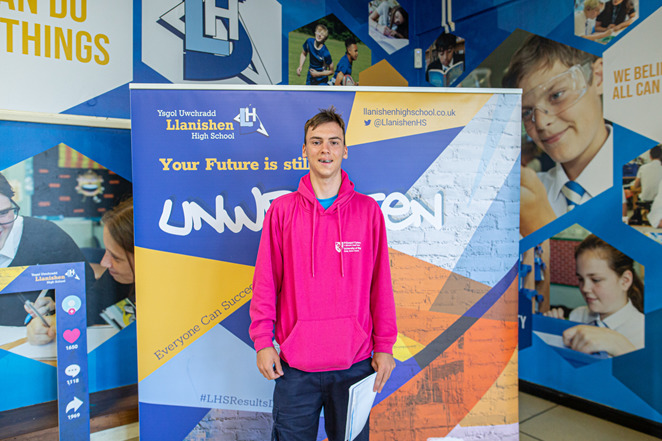 We also celebrate a very talented and creative cohort. Rhiannon Featherstone is progressing to study for a diploma in Performing Arts at Bridgend College to then audition for drama schools. Emma Gatenby is headed to Leeds Conservatoire to study for a BA honours degree in Musical Theatre.
"I'm excited to be studying something that I am so passionate about. It will be intense and challenging but I'm excited to test my ability and dedication."
Here they are in a slightly less energetic pose than above!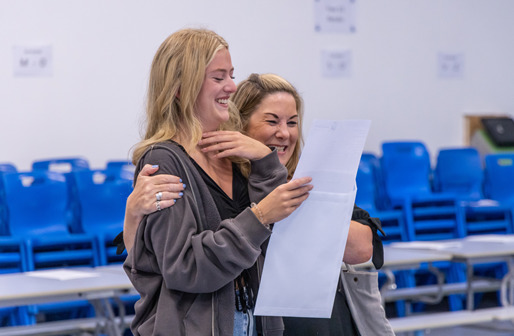 Katy Rennie has been accepted to the prestigious Royal Welsh College of Music and Drama to study for a Batchelor of Music instrumental course specialising in the trumpet – an amazing achievement!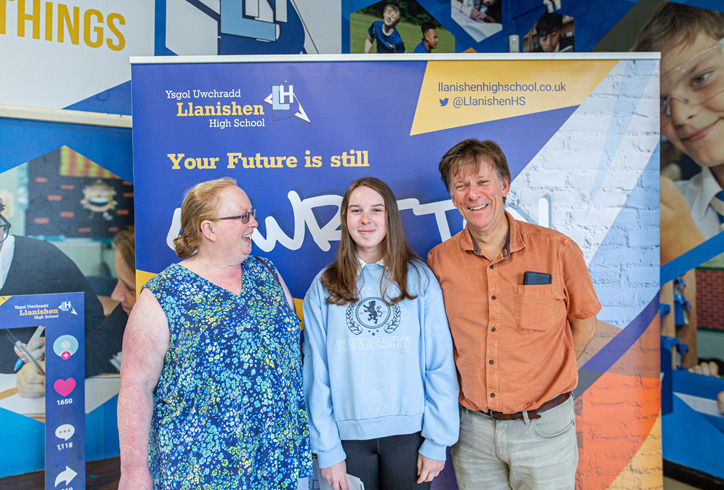 Our congratulations also go to our outgoing head girl Holly Craddock who is headed to the University of Birmingham to study for a degree in Law.
"I'm excited to focus solely on the subject that I love and to explore a different city with a more independent lifestyle. Despite our previous lack of exam experience I'm grateful to the fantastic teachers who have been so thorough in helping us to prepare. I will be forever appreciative of their support."

Finn Sigerson is progressing to Warwick University to read Politics and International Studies. His mum summed it up beautifully, describing him as a "genius who spends a lot of time in Finn-land reading books you wouldn't expect an 18 year old to read – but I still didn't sleep all of last night waiting for the results!" Mum and dad will sleep well tonight!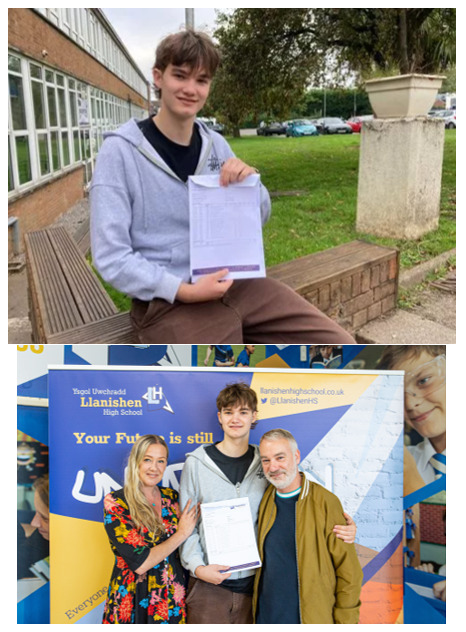 Well done to all of the students that we managed to collar for a photograph this morning, and well done to all of those who escaped our clutches!!
These stories scratch the surface of the varying destinations that Year 13 are headed in. We will miss you dearly and hope that you will keep in touch.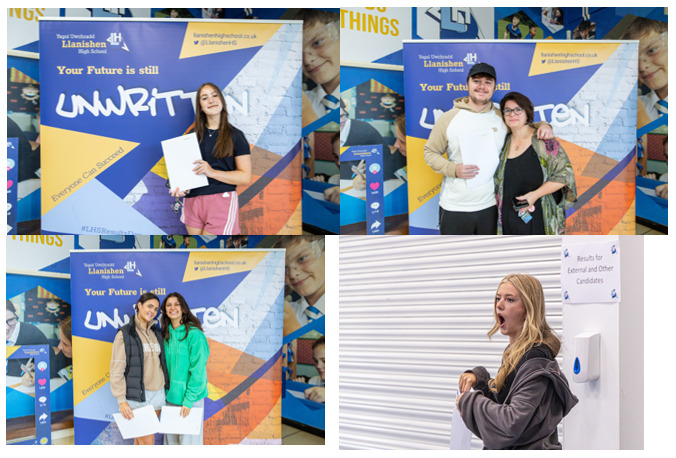 It was also great to see so many students from Year 12 this morning. As we always say, this is your half-way pit stop! A chance to pause for breath, take stock and think about what you want to achieve in your final year of school. We commend you on your Year 12 journey. You have also contended with exceptional challenge with determination and good grace.

I would also like to extend my thanks to our teachers, support staff and examinations officer for the huge amount of work that has been undertaken throughout the year to ensure that our students achieve the qualifications to enable them to progress to the next stage of their lives in education or employment.
Last, but definitely not least, parents and family members who have supported, nudged, and walked that fine balance of supporting these young people through the last 13 years deserve reward too. Where would they be without you?!
We will now take a brief pause to gather our energy in preparation to do it all again next week for our wonderful Year 11 and Year 10 student… the wait is nearly over for you folks.
Thank you for reading/Diolch am ddarllen,
Mrs Sarah Parry, Headteacher